Looking for an SEO agency with crypto experience?
The biggest cryptocurrency brands from all over the world are investing in SEO. Many of them are already engaged with a cryptocurreny SEO agency.
From working with Binance, Bitcoin.com.au and Zipmex, we know just how lucrative the lifetime value of one customer can be. Cryptocurrency searches are only growing more popular by the day. What you may not know is just how much of that you could capitalize on.
For the keyword "buy bitcoin" we can see that it has a massive monthly search volume for english speaking countries all over the world.
People who search for these types of keywords are hungry buyers looking to sign up at your exchange.
The Level Of Investment Required
Ranking for a keyword like "buy bitcoin" isn't going to be easy.
There are massive brands who are already established competing for the same keywords you probably want to target. The level of time and investment in order to rank in the top 10 for competitive keywords is high but worth it.
Binance has been heavily investing in SEO since the beginning. As a result they've been able to secure a traffic value of $392K.
Traffic value is an estimate of the amount of money you'd need to spend on Adwords in order to get the same organic traffic.
If Binance were to cut their Adwords spend, they'd be able to drive 392K USD worth of monthly traffic through organic searches.
A large focus of a Crypto SEO campaign is trying to rank bottom of the funnel "buy" keywords. However, some Crypto exchanges become shortsighted and think that these are the only keywords they should target.
While ranking for "buy bitcoin" can take time, there are other ways you can scale signups. You can target alt coins your company offers and emerging topics.
Matthew Barby, Senior Director of Acquisition at HubSpot
"Whenever I have companies ask me if there are any great agencies in Australia, I always point them to Prosperity Media. James and team are always pushing out incredibly impactful work, and their depth of knowledge around SEO and content marketing is up there with the best in the world."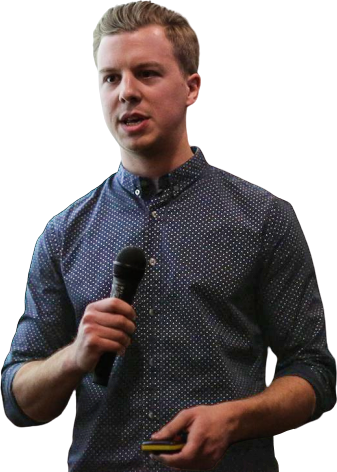 Content Marketing Strategy
It's important to target the middle and top of the funnel keywords in your content strategy. These will generate fewer sign ups but can still pay dividends if scaled properly.
For example, your exchange offers UST. You create an article about staking Anchor Protocol that gets organic visitors each and every month.
If the article you write about Anchor Protocol is helpful, it's easy to convince the reader to purchase UST from your exchange to get started.
This type of content marketing may not drive as many conversions as "buy bitcoin" but you'd be surprised at how well this works and how quickly you can rank.
You can always target these types of keywords but you have to move fast. Authority sites will have you on their radar and look to copy your success.
Authoritativeness
It goes without saying that crypto is a very competitive space. In order to compete, you'll need to build authority. 
So how do you build authority at scale?
Through PR, Link Building and Content Marketing. 
All three of these need to be on point and work synergistically. Your PR team needs to get you not just features but links. Getting a mention from Coindesk is great but what really builds authority is getting a link from them.
There are many ways to get PR links. You can give professional commentary and react to an event that just happened. You can create a study or a piece of content with a unique angle and pitch it to journalists. 
While this is happening, you'll need to have a strategy in place to hit your important pages with backlinks.
Your targets should be pages that drive conversions or natural links.
International Targeting
Since cryptocurrency is becoming popular worldwide, many brands want to get their license and expand into different countries. International SEO can get very complex when scaling. For example, if you target customers in the UK and Australia, you would need to use HREFLANG to tell Google that your pages are meant for two separate countries.
While the pages could have similar or almost duplicate content, HREFLANG would specify to Google that they are different. Massive brands use this technique in not just the crypto space but also other niches as well such as travel.
You'll also need to make sure you have a URL subfolder structure that makes sense.
It's important to have this setup correctly, however it can get very tricky if you lack experience.
Final Thoughts
If you're looking for a Crypto SEO agency and want to take your customer acquisition to the next level, you'll need a team with expertise at your side. Building a successful SEO strategy and implementing it in a niche like Crypto isn't easy. Allow us to build a custom strategy for you. We're only a click away.
Proof over promises.
See our results
Grow your traffic and sales with Australia's best SEO firm.