B2B SEO: Ultimate Strategy Guide
You understand the value of inbound quality leads. The trouble is making sure those leads keep coming down the pipeline. Prepare for a long but insightful read because we're about to give you the B2B SEO rundown.
What is B2B SEO?
Business-to-Business SEO is a strategy that aims to increase organic traffic and rankings. B2B search engine optimization puts a business' website above competitors to attract customers looking for their products and services.
Organic search can be divided into 3 main categories. Here's the top level overview:
On-Page
Each landing page on your website should serve a purpose to either sell or inform your customers. This is where On-Page SEO comes in and you have complete control. On-Page SEO is having the perfect harmony of content for humans, and keywords for robots. When I mean robots, I'm talking about search engines such as Google, Bing and Yahoo.
A landing page that is just optimised for an algorithm with a poor user experience will give you a poor conversion rate. And a perfectly crafted sales page with no optimisation could convert but probably won't receive much traffic from Google.
Just like a business starts with a set of ideas, every B2B SEO campaign starts with a set of keywords. The trick is choosing the correct ones.
You'll want to choose keywords with low competition but high commercial value. In many B2B niches, like marketing, keywords with low competition and high commercial value are scarce.
After years of experience, we've perfected our keyword research processes. Schedule a call and we can help pinpoint the keywords that will get you the best ROI.
Off-Page
Unlike On-Page SEO, Off-page is much harder to control. Off-Page SEO is the process of earning a link from other websites to yours. The industry commonly refers to it as Backlinks or Link Building. These are incredibly important when it comes to ranking for your target keywords and often difficult to earn.
You can think of backlinks like votes. The more you have the better your rankings and visibility. But it isn't so much about quantity as it is quality. Otherwise, what's stopping every marketer from going on Fiverr and paying for a $5 link blast.
If you want the best results, you'll need to do outreach. That means creating prospect lists, finding email addresses, crafting templates and sending messages. You'll also need to pay for SEO tools such as AHREFS and Semrush. Sure, it's time consuming and laborious but it's a necessary evil. I'd recommend you outsource it. Feel free to contact us. We've been developing our outreach processes for years and earning our clients quality backlinks consistently each month.
Technical SEO
Technical SEO is the process of optimising your website for crawling and indexing. Before Google can rank a page, they need to find your pages and store them. If your site isn't optimised for this, it may take longer to rank or if there are serious issues searchers may not see your pages in Google at all.
Those are the main concepts but lead generation for B2B SEO and B2C SEO are actually quite different.
Difference Between B2B SEO vs. B2C SEO
Low Search Volumes
B2B keywords have less volume than B2C keywords. However, don't let low search volumes discourage you. If your customer lifetime value is high then just 10 visitors per month could lead to 1 sale. Search volumes may be lower but the amount of revenue per customer could be worth thousands of dollars.
Another issue is if your idea is too new or isn't well established in the market, people won't know how to search for it. In order for SEO to be effective, there has to be search demand for your product or service.
B2B Requires More Nurturing
In the case of the DSLR cameras, consumers have no problem visiting the site and making a purchase on the spot. Food Photographer Sydney, isn't going to be as easy. Ranking for this term has the potential to bring in huge revenue for the photography business but requires more lead nurturing. Restaurant owners and catering companies are going to have questions about the services. They'll want to know what makes you different from the competition. They might ask for more credentials and experience. In order to make a sale, you'll typically need to follow up.
A high ticket product or service naturally requires more research for both B2B and B2C. The main difference is a B2B product or service is typically a lot more expensive purchase and is more long term. Whoever found you through Google may need to conduct more research, ask their boss about budget or consult with their internal team before making a final verdict.
Online Reputation & Reviews
In a B2C climate, businesses have the opportunity to do a high volume of sales through SEO. That means more chances to nail the customer experience and get more positive reviews. If you receive negative feedback, you can easily dilute it.
In B2B, reputation is equally as important but the velocity of customers coming in is much slower. You'll need to make sure your online reputation is on point from day one. That means asking your customers to leave a positive review the moment they've indicated they are satisfied with your product or service.
If your business has a poor reputation online, that will surely affect sales. Customers won't even consider your product or service if they see others talking about how it fails to meet expectations.
This area of SEO is called online reputation management.
Matthew Barby, Senior Director of Acquisition at HubSpot
"Whenever I have companies ask me if there are any great agencies in Australia, I always point them to Prosperity Media. James and team are always pushing out incredibly impactful work, and their depth of knowledge around SEO and content marketing is up there with the best in the world."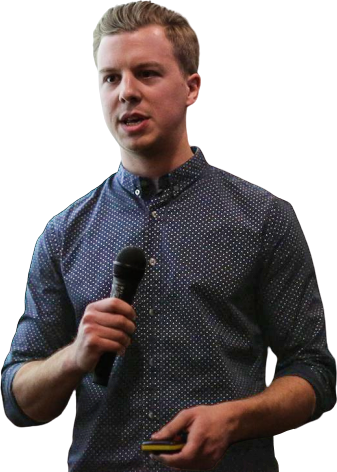 What's Working For B2B SEO In 2021?
B2B SEO is getting more competitive year after year. Authority sites, like Hubspot, are building up their domain authority using link bait. Domain authority makes it much easier to rank for lucrative keywords in your niche.
We've seen some powerful content marketing strategies and link magnets to help build the authority of B2B companies. Here are some examples:
Tools
Tools can be a great way to attract links and address pain points of a certain target audience in your industry.
Design
Canva created a tool that helps you choose one font and then find the ultimate pairing.
https://www.canva.com/font-combinations/
Canva has B2B and also B2C customers. The main appeal of this tool is that it solves a problem for web and graphic designers. When creating a new design for a website or brand, there are hours spent on pairing fonts together.
This tool helps you do that in seconds. Not only did it earn them 647 amount of links but also, more brand recognition as it was highly shareable.
Ecommerce
Shopify created a whole suite of tools for ecommerce businesses.
https://www.shopify.com.au/tools
Shopify targets businesses that want to switch from complicated E-Commerce CRMs and also businesses looking to start selling products. The approach with this page was purely link bait. They created a bundle of useful tools and resources that help sellers succeed. 
In the process they earned 46 backlinks.
Marketing
 Co-Schedule created a headline analyzer.
https://coschedule.com/headline-analyzer
Co-Schedules ideal customer base is internal marketing teams. Marketing teams need to come up with click bait headlines for social media platforms in order to receive good engagement. Naturally, it became wildly popular scoring 5,380 backlinks.
Content That Targets Specific Problems
Kinsta is a web hosting company that executes this strategy perfectly. They know their customers' pain points and have created keyword targeted pages that solve their issues. 
The upsell is their product but the main objective of this style of content is to increase brand recognition, awareness and attract links.
Statistics Pieces
At Prosperity Media, we've taken full advantage of this style of content for ourselves as well as our clients. We created an internet statistics piece that overtime has earned us passive links. 
The entire concept is that journalists are looking for facts in your industry. The first thing they do is check Google search engine results and then cite the top blog posts.
How To Build A B2B SEO Marketing Strategy
These are the 5 steps involved with the strategy:
Technical Audit

Competitive Analysis

Keyword Research

Content Briefs + Quality Content Creation

High-Quality Link Building
In order to see results, you'll need to execute on all of the steps to the best of your ability. This requires a lot of time, effort and knowledge that can't be learned from reading one blog post.
The fastest way to succeed in B2B SEO is to hire the right agency. Contact us if and we can discuss whether we're the right fit for your business.
B2B SEO Agency Services
These are the SEO Services we offer to B2B.
Technical SEO
We use industry standard tools to mimic search engine behavior when crawling your site. Our experienced technical SEO's use a 100 point checklist to pinpoint issues that could hold your websites rankings back. We speak developer, which just means we're as nerdy and tech savvy as your dev team. We'll work with them if they have any questions on how to fix specific issues.
Competitive Analysis
More than likely you're competing with other B2B brands and B2B marketers in your industry. We can take an in-depth look at their success in the SERPS and identify clear cut strategies, links and keywords they're using to produce results.
Keyword Research
Before performing keyword research, we'll discuss your ideal target audience. What are their pain points? Basically, who is searching? Which search terms are they typing into Google? We understand your customers buyer personas. From there, we generate a list of keyword ideas as well as look at the competition to identify opportunities.
These opportunities bottom and middle of the funnel traffic that are more likely to get your target audience to engage and reach out. From there we prioritize these opportunities based on commercial value and competition so you'll know exactly which pages you need to create/tweak.
Content Briefs + Content Creation​
We have the capabilities to produce content for you in house. If you have your own team of writers, we can research the topics and create high-quality briefs. These briefs eliminate guest work and tell the writer exactly what to cover for optimal rankings.
High-Quality Link Acquisition 
Our system of acquiring links has been perfected over the years of experience we've accumulated. We ensure websites that link to your business meet certain quality metrics before we reach out. This ensures the links pointing to your site move the needle.
Over To You
This blog post is just the basics. If you're pressed for time and you want results for your business contact us. We live by transparency and results. Our agency has been in business since 2012 and throughout the years we've built long lasting relationships with our clients because our work speaks for itself.
Proof over promises.
See our results
Grow your traffic and sales with Australia's best SEO firm.