Australian SEO and Content Marketing Statistics for 2022
Australian SEO and Content Marketing Statistics for 2022
In the ever-changing world of SEO, it's important that you revisit your SEO and content marketing campaign and assess what has been working and what has been struggling.
Successful marketers understand that SEO and content marketing is about more than blindly building links or mass-producing content simply for the sake of it. Using a data-driven approach, marketers can create targeted, effective campaigns that help their businesses attract, engage, and retain customers while building authority and generating demand.
Without understanding the current state of the industry, content marketers will struggle to develop effective strategies that will drive results. Here are some SEO and content marketing statistics, tailored for Australian content marketers in 2022.
Search Engine Optimisation in 2022
Search Engine Optimisation is key to any digital marketing campaign in 2022. Unfortunately, SEO is often overlooked for "quick-win" marketing options, however, it's hard to deny the value of ranking well and attracting large amounts of organic traffic. Here are some statistics that show the importance of SEO in 2022.
SEO Statistics
93% of online experiences begin with a search engine. (Search Engine Journal)
75% of users never scroll past the first page of search results. (HubSpot)
50% of search queries are four words or longer. (HubSpot)
88% of shoppers trust online reviews as much as they trust personal recommendations. (SearchEngineLand)
Organic search provides 5.66% more opportunity than that paid search. (New Media Campaigns)
Including a video in a post increases organic traffic from search results by 157%. (Search Engine People)
In 2016 CTR for Desktop searches was at 62.7%. In 2018 this decreased to 60.4% (US statistics) (Search Engine Land)
Mobile
Mobile searches for "best" have grown over 80 percent in the past 2 years (Google)
89% of people are likely to recommend a brand after a positive brand experience on Mobile (Google)
Over 51% of smartphone users have discovered a new company or product while conducting a search on their smartphone. (Google)
In 2016 Mobile CTR was at 40.1%. in 2018 this dropped to just 29.7%. (US statistics) (Search Engine Land)
Voice Search
57% of Australians use Voice Search (B&T)
20% of mobile queries are voice searches (Google)
16% to 20% of queries that get asked every day have never been asked before. (read-write)
The number of voice queries increased 3,400% between 2008 and 2017. (HubSpot, 2017)
Google claims its voice recognition accuracy is now at 92%. (Campaign, 2017)
Two-thirds of people who use digital voice assistants, such as Amazon Echo or Google Home, use their smartphones less often. (CNBC, 2018)
Blogging
55% of marketers say blog content creation is their top inbound marketing priority. (HubSpot)
On average, 80 million blog posts are posted every month (WordPress)
Content marketing gets three times more leads than paid search advertising. (Content Marketing Institute)
42% of companies have hired a designated content strategist executive. (Curata)
Search Engines and Platforms
Of course, understanding how consumers are using search and engaging with content is important, but as marketers, it's also important to understand the platforms this is all happening. Here's what search engines and social media platforms look like in 2022.
Search Engine Market Share in Oceania
Google: 94.5%
Bing: 3.46%
MSN: 0.71%
Yahoo!: 0.53%
DuckDuckGo: 0.52%
Google continues to be the powerhouse of the search world and even increased its market share by around 1% in 2018. Bing on the other hand saw a decline of about 1% and new player DuckDuckGo is slowly making growth that's worth keeping an eye on.
With almost all internet searches originating on Google, it's important for content marketers to understand how search engines work and to be privy to any updates which might affect how their content ranks on the search engine results page.
Platform Market Share in Oceania
Desktop: 51.81%
Mobile: 38.09%
Tablet: 9.94%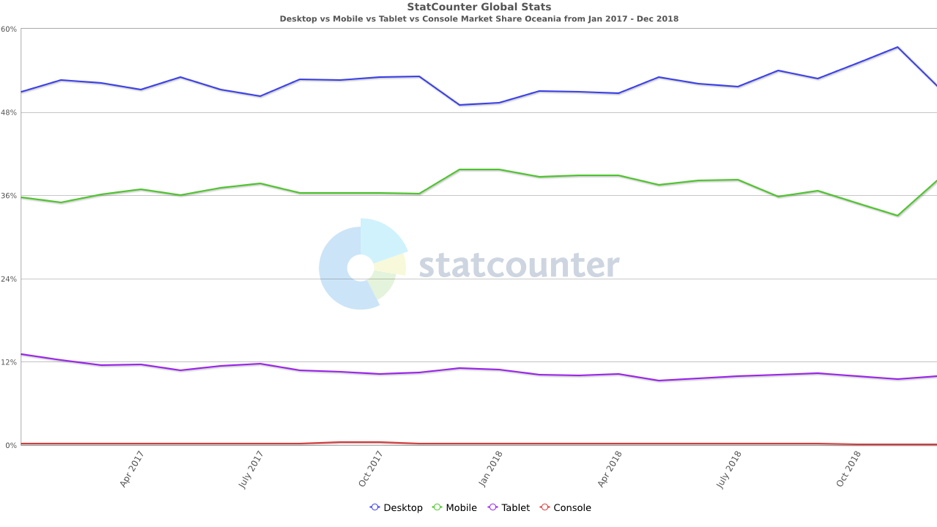 Even as Google moves to mobile-first indexing, the majority of Australian users are still on desktop. Mobile is not far behind, and with growth in things like voice search, it's likely that desktop will struggle to hold its dominance. These statistics show that while it's crucial to focus on a mobile-friendly site, both for users and Google's mobile-first indexing approach, the desktop experience is still important.
It's worth noting the drop in desktop and the simultaneous rise in mobile usage around November and into December. Interestingly, this pattern occurred in both 2017 and 2018. Being aware of patterns like this can help you get a step above your competition and reach more of your customers.
Australian Users and Social Media
Facebook – 15,000,000 Monthly Active Australian Users
YouTube – 15,000,000 Unique Australian Visitors per month
Instagram – 9,000,000 Monthly Active Australian Users
Snapchat – 6,400,000 Monthly Active Australian Users
WordPress.com – 5,800,000
Twitter – 4,700,000 Monthly Active Australian Users approx.
LinkedIn – 4,500,000 Monthly Active Australian Users approx.
Tumblr – 3,700,000
TripAdvisor – 2,800,000
Yelp – 1,500,000
Blogspot- 1,200,000
Flickr – 450,000
Pinterest – 290,000
Reddit – 110,000
MySpace – 70,000
Australian Marketers and Social Media
Social media continues to be the channel of choice for content marketers and users alike. According to the Content Marketing Institute 2018 survey, 90% of Australian marketers use social media posts for marketing purposes with 56% of marketers agreeing that social media is the most effective in helping their organization achieve specific goals.
Australian marketers most commonly use Facebook for their marketing purposes. Here's the breakdown:
Facebook: 93%
LinkedIn: 87%
Twitter: 74%
YouTube: 64%
Source: Content Marketing Institute
The above groups of statistics clearly show why marketers are focusing on social media platforms and specifically Facebook. With 15 million monthly active Facebook users, over half of Australia's population logs into the social media platform every day. Not a bad place to promote your content.
On the other hand, these statistics show that 2nd and 3rd tier networks like Flickr, Pinterest, and even Reddit are yet to catch on with mainstream use in Australia.
The benefits of using social media as a marketing channel in 2022 should not be ignored. Research what social media platforms your target audience is using and hone in on these sites.
These statistics are just the tip of the iceberg when it comes to content marketing, however, it's easy to see how incorporating data into your content strategies can help you find success. In 2022 we will be sure to keep an eye on new and emerging trends in the marketing world.
Let's Craft Your Campaign
This will only take 2 minutes of your time. We promise 😉