About James Norquay – Founder & Consulting Director Prosperity Media
About James Norquay – Founder & Consulting Director Prosperity Media
James Norquay founded Prosperity Media in 2012 after working in the SEO & Content Marketing space for over 10 years in Australia and the US.
James started working in digital marketing by developing his own network of content websites which went on to generate well over 25 million unique visitors from organic search with a strong focus on the US market. These websites were later sold on to a US media company.
James then moved into enterprise-level consulting, driving SEO and inbound marketing growth for large-scale businesses such as Virgin Mobile, Optus, David Jones, Woolworths, BWS, Apparel Group, Maurice Blackburn, Slater & Gordon, Travel NT, Citi Bank and many more. James also developed numerous training courses to assist with the SEO development for these large-scale businesses. In 2012 James decided it was time to start his own business, and the Prosperity Media team was formed. The Prosperity Media offices are located in the heart of Sydney's CBD on Pitt Street. The Prosperity Media team works on complex and large scale SEO projects for ASX listed companies, funded startups, affiliates and mid-size business.
What some industry leaders are saying about James & the team at Prosperity Media –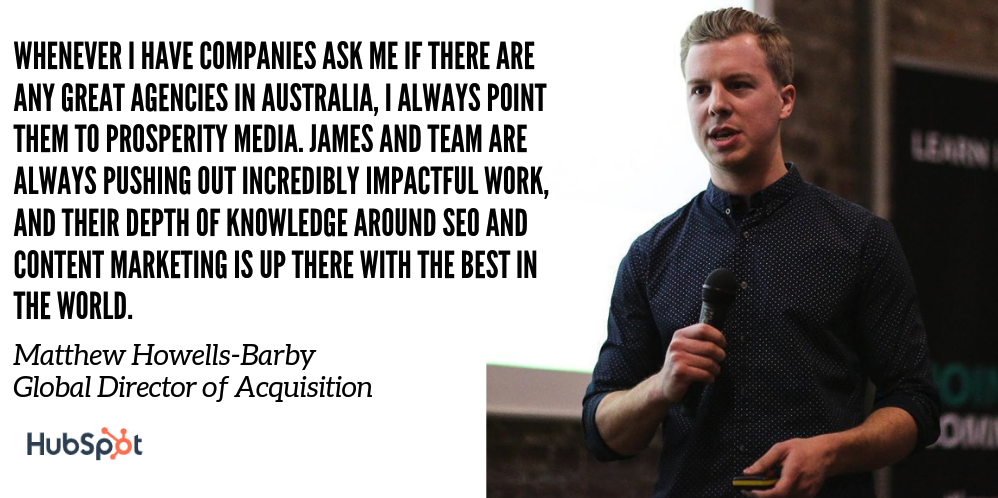 If you are looking for an experienced SEO or Content Marketing speaker for your digital marketing event in Sydney or Australia. James Norquay would be happy to speak at your event. Please do not hesitate to contact Prosperity Media. He has over 14 years experience in digital marketing and over 7 years events speaking experience. 
Speaking History –
2012
SMX Sydney 2012 – Main Stage (Speaker)

2013 
Speaker at Digital Growth Session – General Assembly (Speaker)

2014
SMX Sydney 2014 – Main Stage (Speaker)
SEO Meetup Sydney 2014 (Speaker)
Offis Dinner Event 2014 (Speaker)
2015
Online Retailer Sydney Conference 2015 (Speaker)
Advanced Online Marketing Conference 2015 (Speaker)
News Corp Digital Event 2015 (Speaker)
Sydney Breakfast Seminar Melon Media 2015 (Speaker)
SEM Rush Webinar 2015 (Speaker)
SEO Profits Podcast 2015 (Speaker)
2016 
Online Retailer Sydney Conference 2016 (Speaker)
StartCon 2016 – 3100+ people (Speaker)
South Start Adelaide 2016 – 600+ people (Speaker)
Big Digital Adelaide Conference 2016 (Speaker)
Digital Marketing for eCommerce 2016 (Speaker)
SEM Rush Content Marketing Growth Podcast 2016 (Speaker)
Breaking Digital Podcast Speaker (Speaker)

2017
The Recipe for SEO Success Podcast 2017 (Speaker)
Growth Hackers Sydney Conference – 300+ people (Speaker)
Digital Marketing Radio Podcast (Speaker)
SEO & Content Marketing Growth Webinar (Speaker)
eCommerce Growth Marketing Event (Speaker)
CMO and Growth Marketing Podcast 2017 (Speaker)
Muru-D & UNSW Official Mentor – SEO & Content Marketing (Speaker & Mentor)
2018 
Product Management Event – February 15th (Speaker)
Digital Marketers Australia Sydney – April 26th (Speaker)
Academy XI Growth Marketing Event – May 9th (Speaker)
Expert SEO Panel – 3 Leading Sydney SEO's, Share Strategy, Tips & Advice for business – May 13th  (Speaker)
Digital Marketers Australia Melbourne Event – June 4th (Speaker)
SEM Rush Melbourne Event – June 5th (Speaker)
Traffic Think Tank – Linkable Content Assets that Generate Traffic, Links and Revenue with James Norquay – June 13th  (Speaker)
James Norquay & Kate Toon – SEO and Conversion Copy event – 5th November
2019 
Digital Marketers Australia Conference Speaker – 18-19 March 2019 (Melbourne)
SEM Rush APAC Webinar with Aleyda Solis & Judith Lewis – February 20th
SEO Sydney Event – Digital Growth in 2019.
Macquarie University – (Guest Lecture) SEO & Website Event – April 30th.
Melbourne SEO Event SM profs –  May 13th
Grant Cardone & James Norquay Interview – August 6th
Digi MarCon Australia – August 28-29th
Enterprise SEO with Craig Campbell – 24th October
SEO is AEO podcast Growing a digital agency – 27th October
SEMrush Global Marketing Day – Guest host & Speaker – October 30th
Marketing from the trenches podcast with Will Wang – November
2020 
Online Marketing Sydney Conference with Prosperity Media – 10th February 2020
Video from Speaking events –
Owner of the Online Marketing Sydney group 3,080+ members.
Top 30 rated community members on MOZ out of 3,500+ SEO's
Top 58 Global SEO Authorities to follow on Twitter
Prosperity Media voted best agency in Australia by a 20 judge panel. 
Numerous other Search publications and press mentions can be found here featuring James Norquay.
Prosperity Media Dinner with Larry Kim – CEO & Founder Wordstream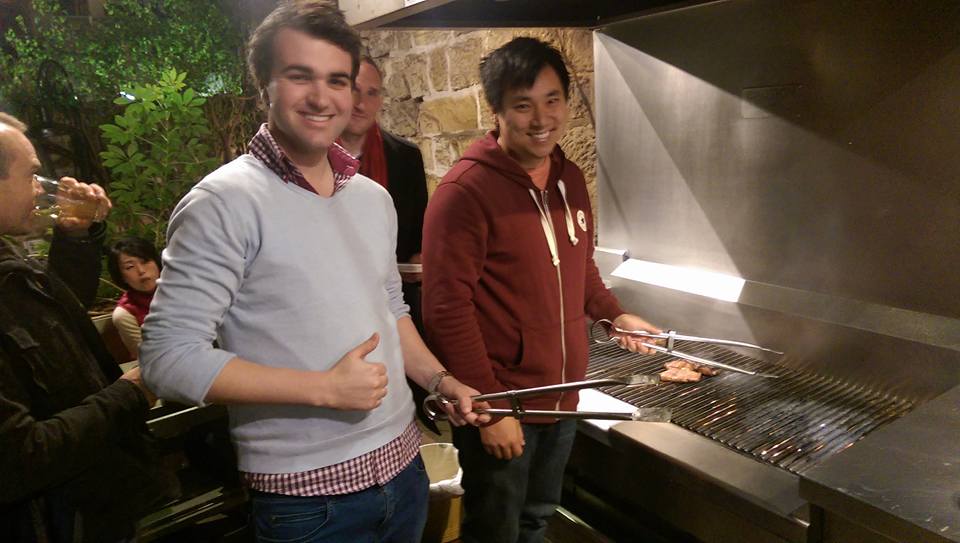 Prosperity Media Founder James Norquay presenting a gift to Gary Vaynerchuk – CEO & Founder of Veyner Media
Let's Craft Your Campaign
This will only take 2 minutes of your time. We promise 😉